So I drove in to St Louis on Wed after work and got in at around 9:30pm. Drove directly to James' because Dave was already downtown and wanted to meet up and go out that night. Hung out with James which was fun and later went to Culpeppers to grab something light to eat, we split a veggie burger :P After eating Dave was already at the Loading Zone so we walked over and met up with the rest of the crew. It was PACKED! Apparently the night before Thanksgiving is the most popular night to be out. Never knew that :) We went to Novaks after LZ and danced and had a really good time.
Family singing Xmas carols and playing musical instruments, hmm very very interesting...;)
The next day, barely getting much sleep I had to jump out of bed and into the shower. We had to be at church. Dave's Mom, Sherry, was the church organist and Dave was playing the trumpet. It was interesting and they played rather well. After church, we went over to Dave's Aunt Karen's house for Thanksgiving dinner. The food was good and the family was welcoming. We ate and drank so much we passed out in the guest room. It was a good time, it just got a little strange when everyone hung out in the family room playing musical instruments and singing christmas carols. We didn't do much after we left Aunt Karen's, we were supposed to go watch a movie but Dave was feeling cheap so we ended up at Emily's house watching a really stupid movie, Equilibrium starring Christian Bale and Taye Diggs.
We were planning this elaborate shopping schedule for Black Friday but decided to sleep in instead ;) We left the house at around 11 and got to Bestbuy and still managed to get most of what I was looking for. A 2GB memory stick for my cell phone for $40, MI:III $7.99 and My Bestfriend's Wedding for $2.99! Even at 11:30pm, Bestbuy was full of people and the lines were absolutely crazy. But it was kind of fun joining in with the all that craziness. John G came over to hang, we walked down to the Mississipi river and then went to have dinner at Maggiano's. That night we went out again to Freddie's, Novaks and JJ's. Met tall Chris, counselor Mark and Irish Barra for the first time, cool people.
Friday night having fun at Novaks and acting a fool
Saturday we didn't really do much in the morning. James dropped by on his way back from visitting his folks and we hung out a little. Dave went to hang with Em and I followed James and had dinner with Jerod, Ryan, Jason and James at Outback. After that we met up with the rest of the crew at LZ. Met Phd Craig. Was tired from the last two nights of partying but Jerod and James kept buying me shots and as I got more drunk the night got more fun :P After LZ, we went to Freddie's and then on to the Complex. It was one crazy crazy night and I had a lot of fun. Two people that were crazy flirting with me, Bill and Doug. We stayed at the Complex till closing and then went to Ryan's. We ate some trail mix and passed out for couple of hours. We then drove back to James and passed out there.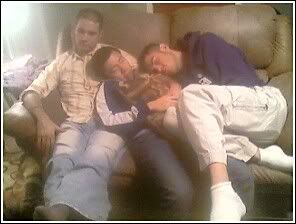 Completely passed out at Ryan's after partying at LZ, Freddie's and Complex.

The next morning, we went to Metropolitan Community Church. It was an interesting seeing so much family attending service. It's just good to see that there are services like this available in bigger cities. After church we had brunch at this really cool Mexican restaurant sitting outside in light sweaters! The weather all throughout Thanksgiving was absolutely marvelous. Went back to Dave's packed and left for Columbia. The traffic coming home was just horrible but made it back safely after a completely crazy, fun-filled Thanksgiving in StL.